Promotions
プロモーション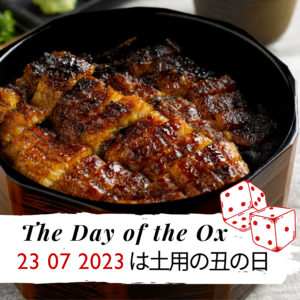 Win 10-60% off Unagi Sets!
Uya 四代目菊川 celebrates 土用の丑の日 (Doyo no Ushi no Hi), also known as the Day of The Ox in Japan this 21st July! 7月21日(火)は土用の丑の日!
Simply order any Unagi set and throw a dice upon billing. The number the dice lands on will determine your discount (i.e. landing on a 6 will give you 60%). Call 67321096 to reserve your table today! 
Extended Opening Hours:
Lunch – 11.30am to 2.30pm
Dinner – 5.30pm to 10.00pm
Seating is limited due to strict social distancing measures. Reservations in advance are HIGHLY RECOMMENDED to avoid disappointment.
Terms and Conditions 諸条件:
Only eligible on Hitsumabushi and items under 'Eel Set Menu' | ひつまぶし並びに鰻セットメニューのみ
Each table is only entitled to ONE dice throw to determine discount | 1テーブルに付き1回のサイコロ投げ
The final landing of the dice is the final result of discount given (i.e. 1 = 10%, 6 = 60%) | サイコロが止まった時の上面が割引率(1なら10%、6なら60%)
Dice must be thrown above and behind your head, outside of the restaurant before settling the bill | 会計後、レストラン外で後ろ向きに頭上からサイコロを投げる
Management reserves the right to amend T&Cs without prior notice | マネジメント(経営管理者)は予告なしに諸条件を変更できる権利を有する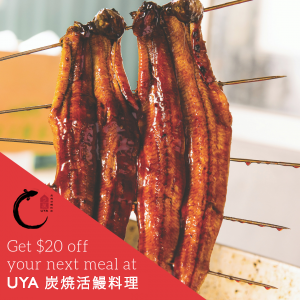 Receive a $20 Voucher
When you upload your pictures with the hashtags #diningatuya and #uyasg
ハッシュタグ#uyasgと#diningatuyaをタグ付け。
Terms and Conditions 諸条件:
– Follow us on Instagram and Facebook | SNSをフォローしよう – Upload creative photos of your meal (we welcome faces!). Tell us why you love our food. | 食事の一番クリエイティブな写真(顔写真もOK)とその料理が好きな理由を投稿 – Upon billing, show your post to our staff | お会計の際、SNSにアップした写真をスタッフに提示 – Vouchers are only valid for weekday lunch, with a minimum spending of $100 | バウチャーは平日のランチのみお使い頂けます – Vouchers are not valid on public holidays | 祭日にはお使い頂けません – Multiple vouchers are not allowed to be used for the same table | バウチャーは、各テーブル1枚のみお使い頂けます – Vouchers are not valid in conjunction with any other ongoing promotion | 他のプロモーションとの併用不可
---